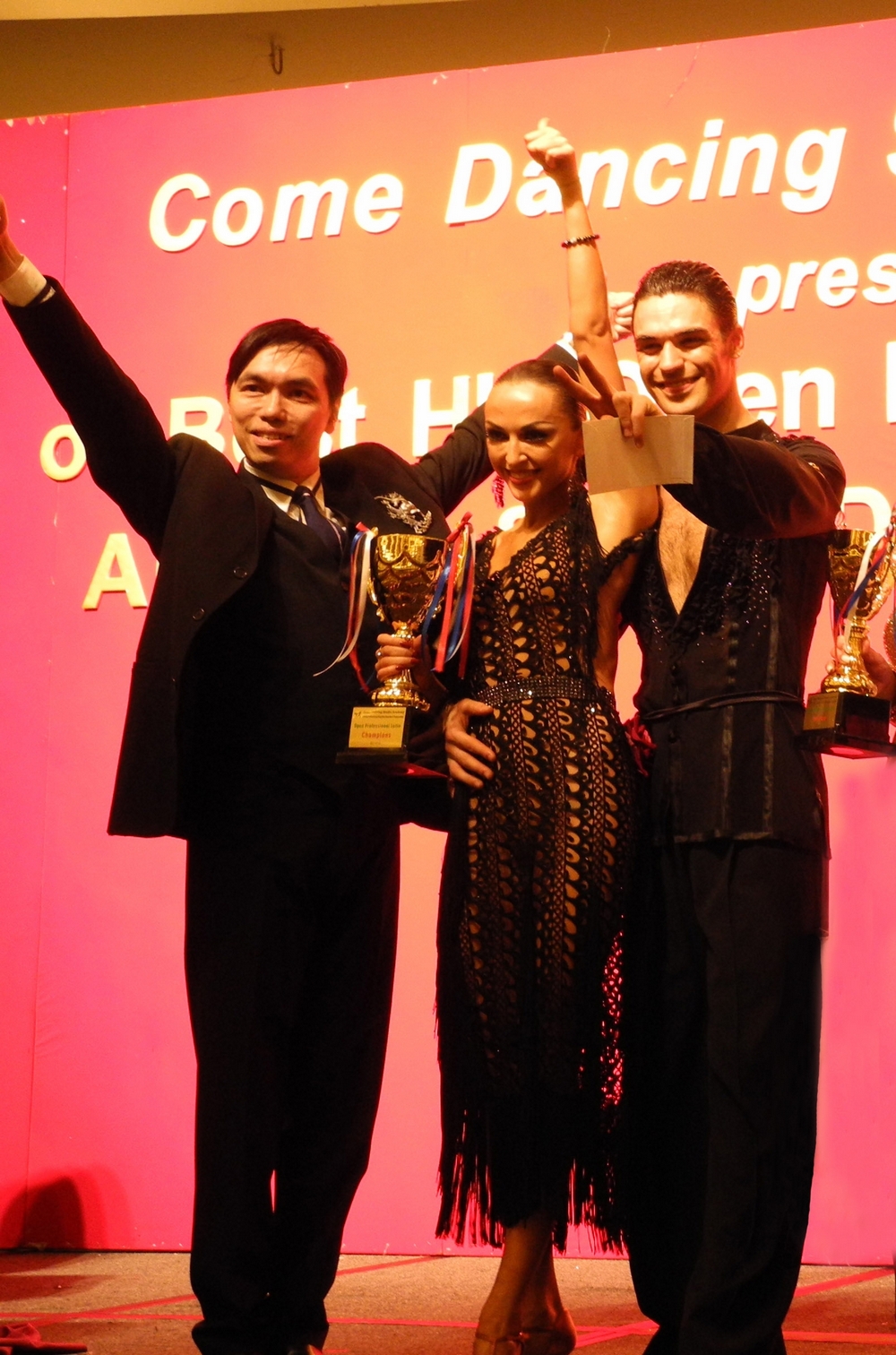 Lawrence Chan's Interview with Manuel Favilla & Natalja Maidiuk
Lawrence introduced Manuel & Natalja to Sabah to make their debut demonstration on 8 Dec 12 because Lawrence found them representing Hong Kong in the International Championships in October 12 and made 1/4 Final in their first time dancing major Championships. They then competed for Lawrence's 14th Best of Best on 25 Dec 12. They met again in Asian Open, Tokyo & Korea Open, Seoul on 24 Feb 13 & 3 March 13. They saw each other again when Manuel & Natalja performed in Taiwan on 10 March 13. Lawrence co-incidently met them again in Tao Yuan Airport when they were ready to fly back HK on 11 March 13. Lawrence spontaneously decided to conduct the following interview at Tao Yuan Airport :
(L : Lawrence M: Manuel N: Natalja)
L : when did you two start dancing?
M: about 8 yrs old in Italy
N : 7 in Lithuania
L : how many partners have you had before partnering:
M : I had my first two partners in Italy, then one in Poland, one in Italy again, then one from USA, one from Australia, the one before Natalja from England.
N : I had had three Italian partners the last being Anniello Langela (current WDSF World Latin Champions), then turned Professional with Jay Park representing Korea. Jay retired, then I stopped for a while.
L : how did you two team up?
M (answered instantly!) : I messaged Natalja! I split with my English partner when I was already working in HK, so Nataja came to HK to have try-out with me. There we go!
L (to N) : I know that you hold Lithuania passport, why do you represent Ukraine?
N: I was born in Lithuania but my passport allows me to live in Ukraine. I was living in Ukraine before, so it is natural to represent Ukraine.
L (to M) : How did you come to start working in HK?
M: I was in Rome and Espen (Salberg) suggested me to come to work in HK as my English partner at that time was also in HK.
L : can you tell me your team of teachers?
M: We are based in HK our trainer most of the time by Gaynor Fairweather and husband Mirko Saccani. But we have also a collaboration with Espen Salberg & Carolyn Smith we have a chance to meet her in Italy.
N : Carolyn has always been my teacher in Italy. She teaches in Venice.
L : Are you two together in private life?
M : yes, we are!
L: I find your choreography quite interesting & unique! Who made for you?
M: some by ourselves, some by our teachers.
N: it's always the chemistry between Manuel & I dancing together to make the choreography!
L : Last question, what is your goal now?
M : to make the Semi-Final in Major Championships. We were 13th in 2012 European Professional Latin and close to Semi in other major championships.
N : not only result-wise! Dancing-wise, we want our dancing to be remained in Dance History, not to be forgotten easily!
L: Thanks very much & good luck for your future dancing career! See you in Singapore (30 March 13)!
M : Thanks for everything!
N: Thank U Lawrence